Trench Coats for Women: How to Wear Them and When to Wear Them
Posted by FRANCHESCA PERRY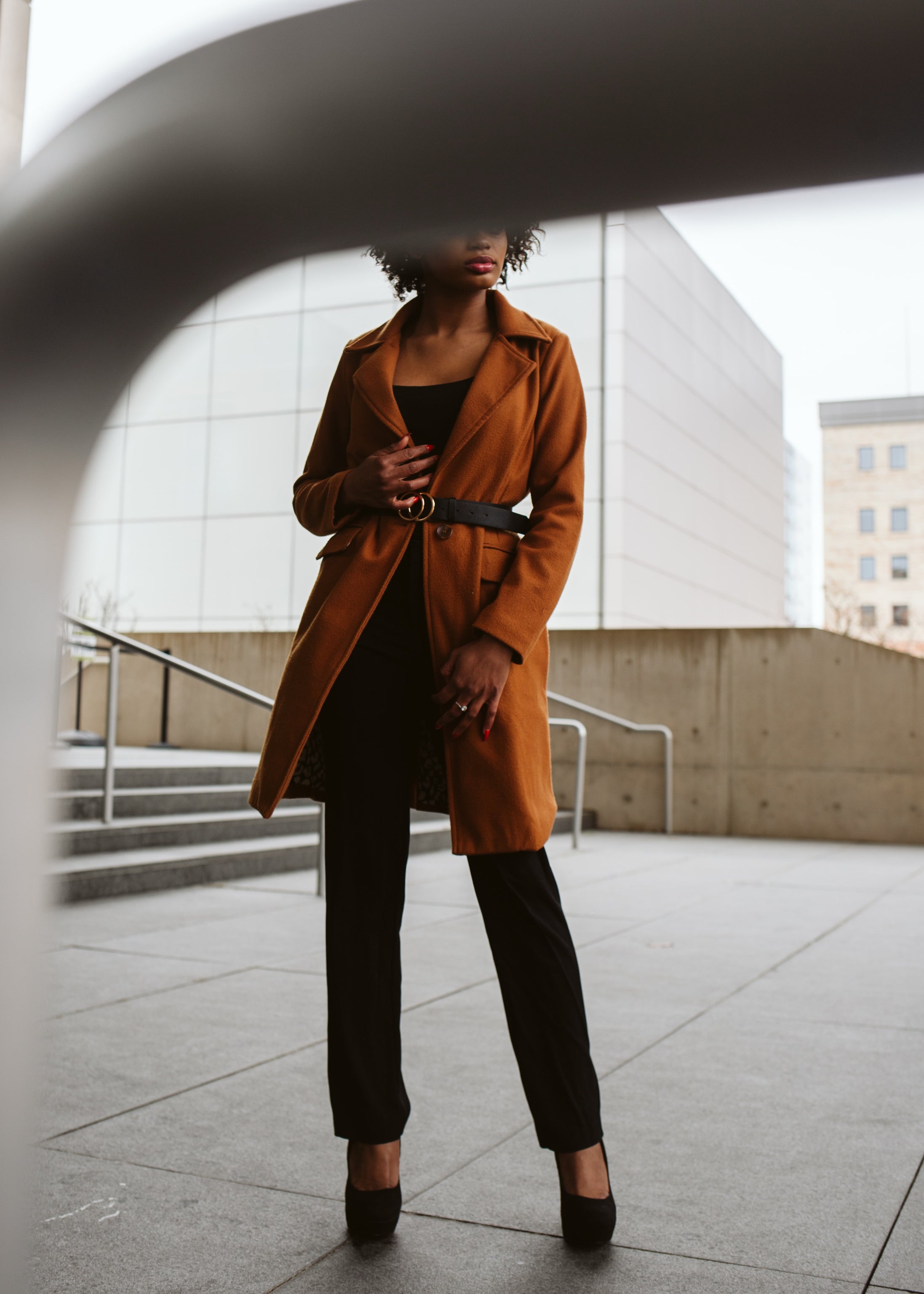 There's no question that trench coats can be worn by both men and women.
This well-liked style of outerwear for men is one that has made a smooth crossover into the world of women's clothing and will continue to do so in the foreseeable future. As stunning as they are on men, trench coats lend their wearers an aura of refined sophistication when worn by women. Given that it is a design that has withstood the passage of time, you can be sure that you will find yourself reaching for it time and time again!
Trench Coat: History
Because of their convenient and user-friendly construction, trench coats became standard issue for the armed forces. The gabardine cotton fabric was adored by the soldiers because it was long-lasting, resistant to water, and was able to shield them from the severe weather.
In addition to the material, which was developed by Thomas Burberry, trench coats are renowned for their double-breasted shapes, belts, wide lapels, and military-inspired embellishments such as epaulets, storm flaps and pockets, as well as a back vent that allows for more freedom of movement. After World War II, when there was an abundance of leftover military clothes, trench coats were popularized for use by women.
Since then, nobody has been able to get enough of this look. This famous legacy style is frequently seen being worn by modern British style superstars like Kate Moss, Cara Delevingne, and Alexa Chung. Other examples include Alexa Chung and Cara Delevingne (although its popularity reaches far beyond the UK). Particularly well suited for use as a transitional coat between the seasons of fall and spring, this coat is the epitome of chic functionality. If you don't already own a trench coat, you should get one as soon as possible because it has unquestionably become a fashion need.
Trench Coat Styles:
The trench coat, like any other item of apparel that has been in existence for decades, has undergone several changes over time. Particularly in the case where the pattern is reinterpreted for the opposing sex. These days, there are a great many iterations of the trench coat available on the market, ranging from having a simple open front to being crafted from silk with a vivid design. It is up to you to figure out which trench coat style would complement your figure the best.
Short Trench Coats:
This is a trench coat that starts just below the hip and ends somewhere around the middle of the thigh. Women who are on the shorter side should consider wearing short trench coats because they won't make them look heavy and they won't cut their legs shorter. On the other hand, if you have a more hourglass figure, you should choose a longer length.
If your trench coat is overly short, it could give the appearance that you are wider than you really are. Trench coats that are too short should be avoided by tall ladies since they might make the wearer appear uncomfortable and as if some of the cloth is missing.
Medium Trench Coat
This is the most prevalent style of trench coat for women, and it often falls at about the knee. This is an excellent option because it looks good on numerous body types, including those that are regular height, tall, slender, or curvy. This form of trench coat may appeal more to curvaceous and petite women than a shorter trench coat.
Full Length Trench Coat:
The length of these trench coats ranges from just below the knee to just above the ankle. You'd be astonished at how many people have the ability to pull off long trench coats, which are the trendiest and most dramatic style.
It simply requires one to have confidence. Long trench coats are most flattering on tall women, but shorter ladies shouldn't be afraid to try one on either. Long coats are a great option for petite ladies because they offer the illusion of longer legs by creating a long line down the body.
Double Breasted and Single Breasted:
Because of this, the majority of trench coats will have a double-breasted design (the extra fabric adds warmth and protection). However, there are certain feminine versions that only have a single breast or perhaps no buttons at all. The double-breasted silhouette can be challenging because it was initially intended to make men's torsos appear to be wider than they actually are. It is possible that it will make your chest appear larger than it actually is, which might be a positive thing or it could be a bad one.