Which women's clothing are best for Summer?
Posted by FRANCHESCA PERRY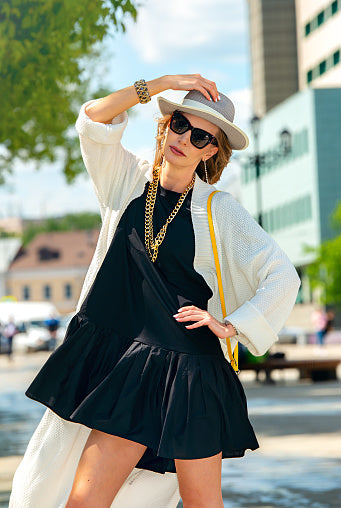 Don't you get a bit scared thinking of summer? With sweat and harsh sun and at the same time saving yourself from getting a suntan. Yes, Summers can give us a hard time but nothing can stop you from looking like a fashion diva, not even this SUN. 
Summer gives us exciting opportunities to dress up for wedding celebrations, vacations, gatherings with friends and family.  If you like to wear die-tie dresses or silhouettes, oversized t-shirts or you prefer to wear checks. 
There are ample designs, style statements, and fabrics. Wearing them looks chic and you charmed everyone with your clothing style and stand-out among your friends and family.
Don't let the temperature stop you from exploring, if you are going on vacation, keep SPF and moisturizer with you.  Have lots of water, keep your skin healthy and hydrated. While traveling, keep in your bags floral prints, rayon night-suits, shorts, dungarees, you can look stylish and maintain your chic look with it. 
This season is full of lightweight and soft fabric, you can embrace this summer with some of our favorite clothing styles.
Go for minimal, strapless necklines, off shoulders varies from different lengths, you can choose from a variety of clothes. You can take inspiration from influencers, your favorite celebrities. Many shopping websites assist you in styling also along with look-books and catalogues. 
Give your closet a vibrant style by following some tips – 
Light color gives you wings to fly

– Wearing light color clothes reflects the sun rays rather than absorbing and giving you more sweat. Choosing  White it would be a great option and pair them with denim. You are all set to rock your summer. 

Say NO to tight-fittings

-  If you wear tight clothes that stick to your skin, definitely you will be able to enjoy summers. Choose loose-fitting and slay these summers. Wide-leg pants, balloon blouses, and oversized tops can keep you cooler. 

Sleeveless is always in fashion

– Whether it be top, blouse, dresses, or minis, go for sleeveless. It saves you from harsh summers and helps you look stunning. Tank tops, Color-block are a really good option, they will help you look fashionable.
Choose floral prints maxi dresses

– Dresses are really easy to wear and maintain. Choose cotton, muslin, and rayon fabric; they are soft and breathable and allow the sweat to soak itself.

You can easily ditch summer and be the style queen with floral print dresses. It can be up to three quarters in length. Colors can be yellow, aqua blue, light blue, light-yellow that are vibrant and soothe the eyes. Make sure your fabric is not synthetic or mixed with it.

For proper air movement wear shorts, knot pants, you can combine them with cotton cord-sets that are easily available in the market. Linen is also a good option to choose from. Style your linen pants with bottle-neck or off-shoulder tops. Pair them with hoop earrings and dazzling earrings. You can opt for flip-flops and pencil heels or wedge heels.

Layering is a good option

-  If you are a professional woman, go for layer clothing. You can pair them with a cotton cardigan with a white or blue button shirt that makes you look stylish and comfy.

Go for one-piece dresses

– they make you look slimmer and overall dresses like jumpsuits, kaftans in light colors. It covers you from top to heels and you can slay these summers. If you want to shop for summer dresses – Go for Bacciinc.com, their stuff is light and maintains high-quality standards. Prices of their clothes are also affordable and they introduce new collections within months. You can browse your favorite dress from ample options. 

Choosing swimwear in summer is quite tough. You have to select a fabric that suits your skin and a brand that deals in genuine products. Browse the internet and choose one that fits your size and embrace your body and let your skin breathe in. 

Long shirts

– Wearing long shirts in summers is a must to try. It can be up to hip length or cover your knees, which is complete of your choice.  Let me give you a tip: select your husband or boyfriend's shirt or T-shirt and style it in the way you look gorgeous. Your husband or boyfriend shirts add a new statement for you.