Which women's clothing are best for Winter?
Posted by FRANCHESCA PERRY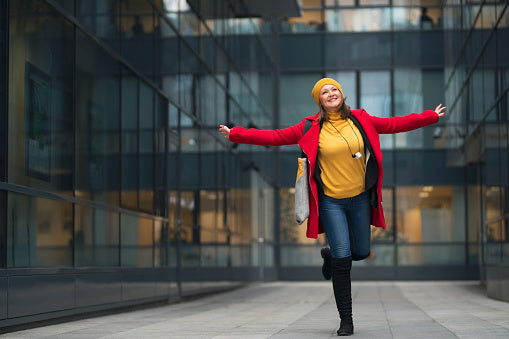 Winter can be one of the best times to showcase your beautiful jackets and pullovers. Enjoying a cool breeze with a hot cup of coffee and subtle sun rays is what you need.
There are ample winter outfit options for women, from long coats to furr jackets, color block pullovers to tie-neck scarves. For women every season is special, as with the change in the season, there are changes of attires. Nothing can stop a woman from looking beautiful and stylish, not even chilled winters. 
Clothing companies have designed beautiful pieces keeping in mind the female desires and preferences. Garment designers know it very well, the primary motive of clothes is to keep warm.
Looking stylish is not a big deal in winters and you can keep yourself cozy and trendy at the same time. By following simple styling tips you can show your best side and there are many amazing options to choose from. Give your wardrobe a new look and try something fresh, that sparks up the light in you. 
Personally, for me, winters are all about warmth, happiness, and exploring. The whole summer I used to wait for winter to fall only, with no fear of harsh sun or getting tanned. You can embrace yourself very well and get a chance to wear bomber jackets and jumpers.
It's the only period where you can take out your long boots, shoes, full-sleeved shirts, blouses, knitted caps, and especially granny's handmade cardigans and caps. My favorite part is to wear my granny's hand-knitted sweaters, caps, and gloves. Isn't it amazing, winter carries so much in its pockets. 
Here are some trendy winter outfits-
Wearing layers for ultimate Chic look
Layers give you warmth and style altogether, it can be a mix-match of different patterns and textures. Your clothes should be lighter and comfortable. If you feel like you have put on 100kgs of weight, you will get annoyed.
You can opt for a turtleneck sweater styled with a belt and long boots. Showing a bit of your waistline makes you hotter. So girls go for layering, you will love it. 
Over-coat & Long sweaters are a must for this season
Girls of any shape can opt for overcoats along with looking classy, they look so professional. You can match them with studs and a handbag. Tight-fitting jeans keep you warm and stylish.
For plus-sized women, long coats and sweaters are the best options because they cover all the extra fat and help you look slimmer. Baciano has an amazing collection of winter essentials. Explore them and choose your favorite one. 
These jackets not only keep you cozy but also give comfort. Fur jackets add beauty to your personality when you choose the right color and texture, you are all set to rock the floor. Pair them with winter shoes or low-heeled boots.
Scarves add beauty to your dim look. You can opt for oversized or regular size length. These scarves are simply a style-statement piece, you can wear them in 100 ways. Go for digital prints, 3D designs, and bright colors.

 

Now, it's time to protect your main area i.e. head, you know it is everlasting fashion. The Winter look is incomplete without caps and also keeps your head warmed. You can choose your favorite cap from Baciano, they have super stylish winter collections.
You can wear it on your tops, dresses, it gives you a perfect girly look and also always be in fashion. Capes can never be out of fashion, they always come in new patterns and designs.
Girls who want to keep it simple and minimal yet wanna look stylish. Go for handmade capes and they keep you safe also from freezing weather. It can be worn over jeans or winter leggings and can be worn at parties, offices, college, or weddings. 
Draped cardigan creates a dramatic shape with textures. You can wear your draped cardigan over top or just like usual, pair them with jeans, slim pants and winter trousers. To look more stylish, you can wear broad buckle belts, they can make you look like a celebrity. 

It's time to protect your hand from winters – Girls go for gloves, there are several options in the market. With three-quarter sleeves and jackets, you can wear long sleeve gloves. They look fabulous over jackets and winter dresses. You can opt for this style for winter weddings, cocktail parties, or wedding ceremonies. They give you warmth and style.