Women's clothing and home décor
Posted by FRANCHESCA PERRY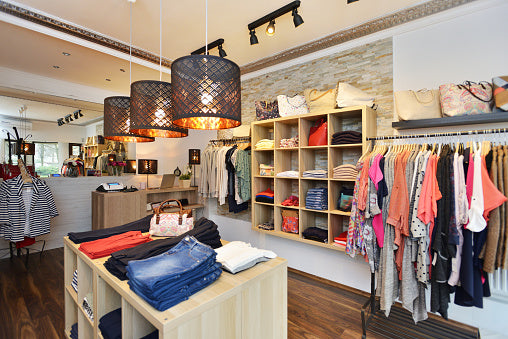 Whenever you go to a showroom or any designer studio, you will be mesmerized by the ambiance and vibes there. An exotic entrance with a vibrant scenario is enough to tempt your mood and nevertheless, you will shop their kinds of stuff. You have seen drop-dead dresses designs, evening gowns, bridal dresses, you will not stop yourself from having them. These masterpieces are not only what force you to buy them but the fresh and positive vibrations there will lead you to have them. 
Display styling is one of the major reasons you can buy costly dresses. They are so beautifully intricate that I was surprised by how they can create such a charming display of affection. With every new season, there is a new style of showing the clothes and other accessories. Bright colored flowers sculpted in and out of the ceiling hangings add beauty to your favorite dresses. 
Portraying your shop design is an essential visual merchandising element. Your customers can use it to navigate your store, weaving their way through key displays and making them want to buy. There are many other displays. I am talking about some of the fascinating designs you can opt for in your boutique, shop, studio, or showroom.
This modern walk-in closet features a Lucite barrel chair next to a white floating cosmetics vanity, stacked garment rails, and white flat front cabinets with brass knobs.
A white closet island with brass drawer pulls and a white quartz countertop is adorned with two fringe chandeliers hanging from a floral wallpapered ceiling.
Stores that have marvelous display centric – 
1) Urban Outfitters 
Founded -  In 1970 
This store has been designed keeping in mind the youngsters' taste and preferences. Offer a wide variety of clothing along with accessories, housewares, and gift options. In some of their locations, they even have restaurants and cafes. This can be a great marketing strategy; you can take advantage of both food and clothing at the same place. 
2) H & M
Its first store was opened in the year 2000 within New York City. It's been more than seven decades; this is a favorite celebrity brand catering to all of your needs serving as one shop solution. 
3) J Crew 
It's one of the most popular American brands, started with catalog services. Their beautifully curated showrooms now offer you a look book and catalog seeing you can be in love with their collection. Their fashion week presentations and styling options are the talks of the town.  
4) Sabyasachi Official 
One of the most lovable Indian fashion designers, known for its bridal collection and very well accepted internationally. If you aren't a fan of his clothing and styling, go and visit his studio. I bet you, you will find excuses to visit there. His stores symbolize royal match-made fashion and décor heaven. You will feel like the King-Queen as you enter. Hand-painted tiles with exquisite wall hangings, wooden floor, and antique paintings, all are to be loved. 
Women want to look stylish and different from others, their style depicts their personality and confidence. Women's fashion sense tells what is going in their minds and heart. Coco Chanel's famous quote says No matter what you are going to wear, dress up, wear lipstick and show your best side. When you go to stores to buy your favorite dress, the way they are displayed is so eye-captivating that you can't hold yourself to buying from them. This might be their marketing strategy because if you enter a well-furnished store, the ambiance of their store calms your mind and lets you feel royal and you never lack behind in not getting one. 
An exceptional shopping experience mixed with rich fashion, customized pieces, interiors, and personal styling to help every step out of way. Dresses hung in the beautiful closet seem as if calling us to buy and wear them. It feels they are specially designed and curated only for you to give you a royal look. Beautiful tops, maxi dresses all pieces are branded and can be customized as per your specifications. Handcrafted wedding gowns, cocktail gowns, and evening gowns all are designed keeping in mind what women desire and looking for. You can also find handmade accessories, earrings, and neckpieces in outlets. 
We have tried to cover all the topics related to women's clothing and décor, add your comments.