How do you wear a poncho properly?
Posted by FRANCHESCA PERRY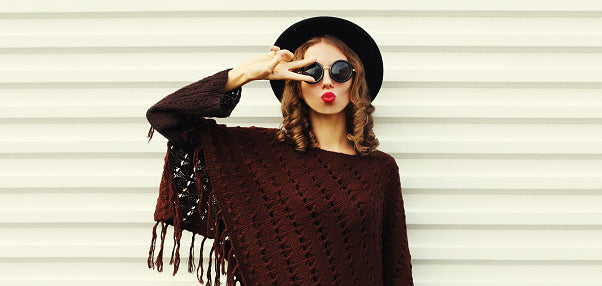 It's already chilled out, you might have seen girls wearing ponchos. Ponchos is a great option to try on for light winters. They can be styled in numerous ways, you have seen various Reels on how to style Ponchos? How to wear Ponchos in different ways? You also might have seen its tutorial on YouTube.
Ponchos is a great option to enhance your simple outfit just by styling it with another outfit. It can be worn over dresses, tops, kurta's, saree, or minis. You can match this one outfit with almost everything.
Neither they are coats nor pullovers, still, they keep you warm and act as a show stopper for your dress. You can level up your style in office parties or outings.
If you hiking or planning to go trekking, it's a good option and can also your over-load of carrying heavy jackets, cardigans pullovers. As Poncho covers your neck and doesn't let air enters in and felt you cold. 
What is a Poncho?
A Poncho is like a top wearable from up and cuts in the middle and its side fall as draped. It's not like a jacket or a pullover, it can be worn for winter and summer as well.
There are ponchos for the rainy season as well, they are made of waterproof materials. Winter ponchos are made of wool or it's similar fabric, it looks like a big shawl or similar. Here are some styling tips, you can follow them and look great 
1. Wear them with sweaters
Ponchos can be worn as over light fabric pullovers or t-shirts. They look damn good and you look an absolute stunner. Pair them with suede boots and hip-hop earrings. 
2. Collar neck T-shirts
Style poncho with collar neck T-shirts, they look so cool. It's a good option for professionals, you can wear this style in an office or while going to meetings. Wear them with ankle-length boots or long boots. You will be the show stopper and get an appreciation for your choice. 
3. Match them with jeans
The easiest way to wear a poncho with a bottom is with skinny jeans or slim trousers. When combined with a poncho, something fit on your bottom will balance your outfit's volume, so you won't look like a teddy.
4. Mismatch 
If your poncho is simple and plain then underneath wear it with a dark color top or kurta. Beneath go with ripped jeans or high waist pants. You can choose plush cozy poncho Elegant & Luxurious style. You can attach a hook or broch on the front and wear it like this or can leave it open as a Kimono. 
5. Wear it with short kurtas 
You can wear Poncho with woman Kurta's or Indian suits look so beautiful and in winters if you are opting to wear it. It would be a good option, you will be safe from winters along with it look stylish.
6. Match with flared 
You can match ponchos with rib jeans or flared pants. Wear them with long boots and a classy handbag is legit. Color that looks good is firey red, beige, and burgundy. You can pair it along with knee boots, they look amazed and modern. 
7. Shorts & Ponchos
Why cover legs completely, when you have a chance to flaunt them. It may sound naughty, but yes you can wear ponchos with shorts, pair with knee-length boots. Also, make it match with midis and a sling on one side or clutch with hook earrings and thigh boots or shoes. Wearing shoes with shorts is a sign of how sexy you are. 
You can further add style to your simple poncho by wearing it with scarves. Ponchos are slightly oversize so you can pair them with scarves and complete your look. With bold ponchos, use the light color scarf and with neon, one uses bold textured scarves. 
Poncho is mainly designed to look you more stylish and comfortable. Fabrics used in its manufacture are lightweight and soft, many companies have become a part of this line and manufacturing it.
You can browse Bacciinc.com for many elegant designs, their fabric quality is also so good. You find something trendy for yourself as well. 
If you have any other ideas for styling poncho, Comment below.