The Ultimate Guide to Women's Jackets and How To Find The Perfect One
Posted by FRANCHESCA PERRY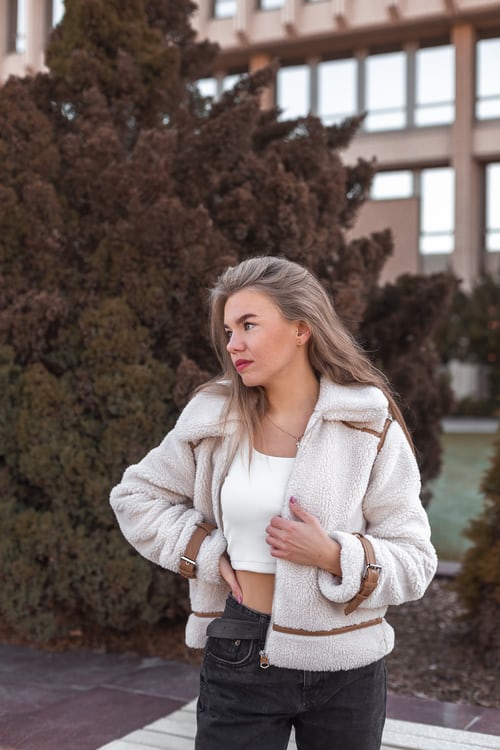 What is a Woman's Jacket?
A woman's jacket is typically a lighter, more compact form of outerwear than a coat. The term "jacket" can refer to the short jackets that go just past the waist or it can refer to full-length coats that reach the thighs or knees. A woman's jacket typically has sleeves and is generally less bulky than a coat.
What You Need To Consider When Buying a Woman's Jacket
A jacket is the best way to make an outfit look dressed up or down, depending on what you wear it with.
There are many things to consider when buying a woman's jacket.
In this article, we'll cover four important aspects of jackets: style, fit, and material.
Style: Consider your style preferences and the occasion for which you'll need your new jacket. You can find a fashionable women's leather biker jacket for a night out on the town or a denim jacket for a day at work.
Fit: Pay attention to how tight you want the arms and how long you want the sleeve length to be because these two fit specifications can be difficult to alter after purchase.
Material: Leather jackets look great with cold-weather outfits.
The Best Women Jackets in Different Uses and Occasions
- The winter is a harsh season and you need to dress up appropriately. There are a lot of the best women coats on the market.
- Coats that are waterproof or water-resistant will help you stay warm in the winter and dry in the rain.
- You will need a coat that goes with every occasion, such as for office wear, party wear, or casual wear.
With the freezing weather, one of the best coats to own is a women's jacket. The type of coat that you wear depends on the occasion and the activity that you are going to participate in.
There are many different types of jackets which include a winter coat for cold weather, a raincoat for wet weather or a light jacket for hot summer days. Women should make sure to get the best one for their needs and stay warm and dry during any season!
How to Choose which Jacket Will Suit Your Needs And Personality the Best!
The key to choosing a jacket that suits you is to find one that matches your personality and needs. Use this list of questions to help you figure out which style will work best for you.
- Do I need a jacket with a removable lining?
- What kind of fit do I prefer?
- What is my budget?
- Do I want a waterproof or water-resistant jacket?
- How often do I plan on wearing the jacket?
A jacket is one of the most important pieces of clothing people can own. This might not be on the same level as a suit, but it's just as important to find the perfect jacket for you. It's hard to dress well without this particular article of clothing.
There are some things you have to be aware of when shopping for a new jacket. One of them is how much warmth it will provide you with in different conditions. Another thing is how well it will protect you from rain and snow. And the last thing this article will mention is how much protection your jacket provides from wind and rain, which would come in handy if you plan on taking public transportation or if you live in an area where there are strong gusts of wind all year long!