Clothing tips for cold weather: 17 to 10 degrees or colder
Posted by FRANCHESCA PERRY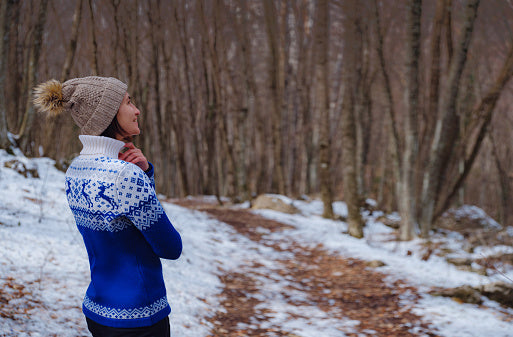 What clothes can I wear today? That is the question that almost every woman has practically every day. Your clothing combinations for 17 degrees are, of course, completely different than at 8 degrees. We have therefore collected the best tips from all our girls in one overview. With this, you always have a suitable set of clothing in the fall, winter, and spring. Even in extreme cold!
15 - 17 DEGREES: CLOTHING FOR AUTUMN AND SPRING
At temperatures of 17 degrees to 15 degrees, you can still go outside with a thin cardigan. Pull this over your spaghetti top or t-shirt. Combine these clothes with a lovely skirt or pants, and you are entirely fashionable! A dress is also fine with these temperatures. Choose a midi or maxi dress.
For the cold ones among us: an in-between jacket is of course also possible, but we recommend a thicker cardigan. For example, opt for a stylish wrap cardigan.
13 - 14 DEGREES CLOTHING: COLD IN-BETWEEN SEASONS
When it is a bit colder in the spring or autumn, it is nice to wear slightly warmer clothes. Then choose short cardigans, a sweater, or a stylish shirt with long sleeves.
Would you rather wear a dress? Go for tight dresses with a midi or maxi length. You better stay warm in these dresses. At these temperatures, tights are pleasant. An in-between jacket is nice with these temperatures. For example, choose a nice denim jacket.
12 - 11 DEGREES CLOTHING FOR A MILD WINTER
Suppose you are looking for winter clothing, then the average temperature is around 11 degrees. You will probably wear these clothes the most. With 11 and 12 degrees, long jeans are nice, but you can also easily combine a dress or skirt with thick tights. In these clothes, you are, of course, very feminine and downright stylish. Of course, there is a sweater, sweatshirt, or top with a cardigan on your skirt or pants.
A leather jacket or quilted jacket keeps the wind out well, so you stay nice and comfy outside. If you get cold quickly, a winter coat is already an option. If the maximum temperature today is 13 degrees or higher, your winter coat will soon become too warm. You can then sweat a lot.
10 DEGREES OR COLDER: CLOTHING FOR A COLD WINTER
At 10 degrees or colder, you put on almost the same layers as at 12 to 11 degrees. You can still wear a dress just fine. Pull an extra pair of socks over your tights. This keeps you nice and warm and comfortable.
With your knitted sweaters and knitted cardigans, you are also completely ready for the winter. Turtlenecks are also super stylish. Do you get cold quickly? Then wear a shirt under your sweater.
If you go outside, a winter coat is now necessary. Your winter coat may feel a bit heavy for the first few days, but luckily you get used to it quickly. You get a lot of heat in return. When the outside temperature is around freezing, you naturally dress a little warmer.
You lose most of the heat outside through your head, feet, and hands, so make sure you keep it nice and warm. Wear a beanie, gloves and a pair of high boots. This way, your entire body stays nice and warm.
Let me know if you have any suggestions for these climates, and we are always open to a suggestion!