Best sweaters For Women Over 30
Posted by FRANCHESCA PERRY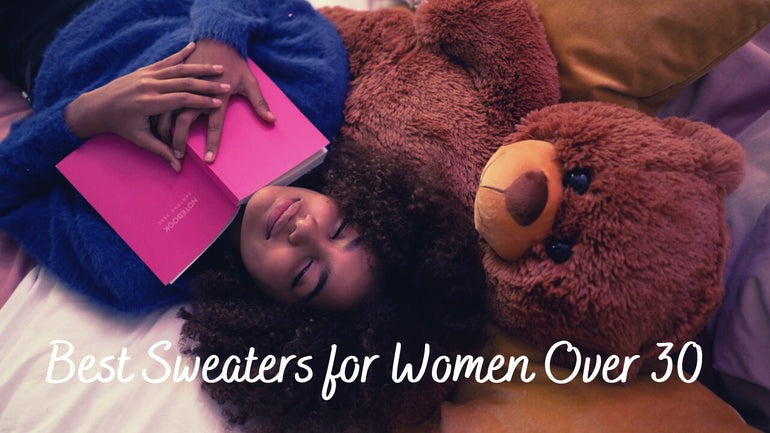 Lightweight sweaters are, without a doubt, women must have this collection who are over 30th age. In fact, light weight sweaters are great layering pieces that can be worn year-round, but especially in the next transitional weather as we leave winter and our thicker knits behind. Wide-leg trousers, high-waisted jeans, and A-line skirts can all be worn with them. Slouchy, turtleneck, and cardigan styles are the most popular among fashion females over 30.
Look no farther if women don't want to give up their knits in the spring. We combed through our favorite retailers to find the greatest lightweight sweaters available for purchase right now. These are alternatives you'll want to add to your closet as quickly as possible, whether you layer them or wear them alone on warmer days.
Best Sweaters for Women Over 30
1. Pointelle Cardigan
2. Crop Polo Sweater
3. Cashmere Faux Wrap Sweater
4. Knit Paisley Cardigan Sweater in Dark Gray
5. Donegal Jason Ex-Boyfriend Pullover
6. Emma Sweater
7. Knit Sweater
8. Hawi Sweater
9. Relaxed Sweater
10. Cropped Distressed Merino Wool Sweater
11. Ribbed Cropped Cardigan Top
12. Sulug Ribbed Mélange Wool and Cashmere-Blend Sweater
13. Rosie Extra Long Sleeve Lambswool Cardigan
14. Wide-Cut Sweater Vest
1. Pointelle Cardigan- Wrap yourself in this classic cardigan lightweight sweater and you'll understand why it's a long-time favorite among women's over 30. On the front, intricate pointelle design gives a gorgeous eye-catching lace pattern. Its easy-care fabric is incredibly long-lasting and may be washed multiple times. Patch pockets with plenty of room keep essentials close at hand. This cardigan lightweight sweater is a great layering piece that comes in a range of colours.
2. Crop Polo Sweater- We've added a classic piece of clothing, the polo shirt to this collection of sweaters. This sweater is slightly cropped, garment dyed, and knit in Los Angeles from 100 percent cotton! Tortoise buttons have been added to add to the femininity and refinement of this style. For a more polished look, use it with jeans instead of a t-shirt.
3. Cashmere Faux Wrap Sweater- This Sweater keeps yourself very warm out there. This eco-friendly sweater has a thin fit throughout and an overlapping wrap front with no tie, making it incredibly simple to put on. It's constructed of silky cashmere, so it'll keep you warm. The High-rise-bootcut Jeans look great with the Cashmere faux wrap sweater for women over 30.
4. Knit Paisley Cardigan Sweater in Dark Gray- This sweater can be worn in all four seasons: spring, summer, autumn, and winter. It's constructed of mid-weight cotton and may be worn alone or layered for increased warmth and comfort. With a casual, somewhat boxy roomy style, this sweater fits true to women's over 30 sizes. It features a cropped length, bigger arms, and a wider chest.
5. Donegal Jason Ex-Boyfriend Pullover- This enormous V-neck sweater is constructed from a super-soft blend of merino wool and alpaca, and it's prone to being borrowed indefinitely, so stock up. This sweater is a collection of everyday basics that are effortlessly fashionable and surprising. From the perfect dress to flexible jeans to a basic shirt, everything is meant to be mixed and matched.
6. Emma Sweater- Simply Emma's women's sweater will elevate your look. With a line of practical silver tone snaps on each side, the soft knit pattern gets a sleek makeover. This everyday sweater is flexible and flattering for women over 30. The Emma cardigan is a terrific way to warm up on chilly days. The long line of rib that runs down the arms slims, while the fabric-lined pockets keep the hip area from being too bulky.
7. Knit Sweater- This selection of women's knit sweaters will help you ease into the colder months. This knit sweater will keep you warm and stylish around the clock, whether you're wrapping up at home or wanting to increase your comfort levels while out and about. This season, knit cardigans for women are a must-have; pair with jeans and a simple blouse for an effortlessly elegant look.
8. Hawi Sweater- The Hawi sweater features a beautiful pink flower motif that is excellent for the coming season. Its towel fabric is made entirely of cotton and is made in Portugal. This top can be paired with the shorts and bag that go with it.
9. Relaxed Sweater- Enhance your winter wardrobe with rich and fashionable pieces like relaxed sweaters. This relaxed-fit separate features a simple V-neck profile for versatile appeal and is made from a luxurious cotton-wool blend for limitless comfort and breathability. This sweater is 100 percent new wool. To ensure the highest quality, seams are hand-sewn with a sewing machine.
10. Cropped Distressed Merino Wool Sweater- To give it a stylish, worn-in effect, this cropped distressed merino wool sweater is purposefully torn at the mock neck, cuffs, and cropped hem. It's spun from luscious merino wool and has a thin fit and long, knuckle-grazing sleeves, and it's designed in a beautiful shade. Wear it with a pair of high-rise jeans.
11. Ribbed Cropped Cardigan Top- Sweater made of high-quality cotton that is highly comfortable and soft to wear. On the skin, Cardigan feels gentle and warm. Stretchy and pleasant with a high elasticity. Perfect for casual, school, work, everyday wear, shopping, parties, and any other events. This cardigan can be worn as a jacket over t-shirts, tees, tops, tank tops, and other items. This cardigan can go with any outfit for a terrific look.
12. Sulug Ribbed Mélange Wool and Cashmere-Blend Sweater- This Cashmere blend sweater designs knitwear that may be worn with confidence and ease. This ribbed mélange wool and cashmere-blend 'Sulug' sweater is extremely soft and light.
13. Rosie Extra Long Sleeve Lambswool Cardigan- This two-tone lambswool cardigan with a yin-yang button placket features bright knot-stitched roses and the brand's double-Y pointelle embroidery. This cardigan, draw design inspiration from their grandmothers' closets and bringing slow fashion to one of the world's fast-fashion capitals.
14. Wide-Cut Sweater Vest- This sweater vest in a delicate cotton blend with a loose shape. V-neck with back-facing seams, softly dropped shoulders, and rib-knit trim at neckline and armholes. Slits on the sides that are angled.
These are the most beautiful and popular sweaters for women over 30. These are best fits for women over 30. Get your favorite sweaters for your wardrobe this coming season.